PROFESSIONAL EXPERIENCE
HI-RISE BALLOONS AND FLORAL SUPPLIES, June 2017-Present
Nationwide wholesale balloon and floral supply distributor. HiRiseBFS.com
Responsible for managing all internal and external communications for Hi-Rise Balloons and Floral Supplies.
Develop an integrated communications strategy for the company incorporating PR, Marketing and Online.
Implementing communications plans to increase brand awareness and recognition for the organization.
Project manage department workflow.
Develop and maintain company website and image database.
Promote, plan, execute promotional and training events.
Collating and analyzing current communications and messages and ensuring consistency.
Plan and execute social media posts, including paid reach.
Communicating brand to internal customers and stakeholders.
Create company advertisements and select promotional products.
Manage production schedule of customer communications.
Design and publish catalogs, email campaigns, brochures, order forms and various marketing materials.
Organize delivery of marketing materials to customers.
AMERICAN SOCIETY OF CIVIL ENGINEERS – TEXAS SECTION, April 2013 – June 2017
Nonprofit professional society promoting civil engineering in Texas with 10,000 members. TexASCE.org
Communications Manager
Responsible for implementing the overall communications and marketing strategy.
Manages all communications tasks and initiatives for the organization.
Creates information graphics and presentations on the organizations initiatives.
Generates regular email communications including the TexASCE Advisor monthly newsletter.
Together with leadership and strategic communications consultants, created an overall communications plan for the organization.
Ensures branding and messaging consistency across all communications platforms.
Work with ASCE staff, directors and volunteers to create collateral (general and event / initiative specific) for a variety of purposes.
Manage any branded materials
Use innovative marketing techniques to propel the Texas Section ASCE brand forward in terms of public awareness.
Manage marketing campaigns related to public awareness and special events.
Designs and publishes quarterly "Texas Civil Engineer" magazine. Coordinates advertising insertion, articles, graphics and photography.
Coordinates with Education Committee on monthly ASCE Texas Section Webinars.
Maintenance of TexASCE.org website.
Creates fresh content on a regular basis for all pages.
Tracks analytics.
Manages Section social media accounts (Facebook, Twitter, Linked In).
Generates content for all social media channels.
Boosts social media engagement / audience and track this with metrics.
First point of contact for press inquiries.
Creates and distributes press releases.
Manage press conferences in conjunction with public relations consultants.
Increases ASCE Texas Section's local and national media profile.
Creates content media publication and proofs content contributed by other staff and volunteers.
Lead staff support for the Editorial, Conference and Public Relations committees.
Provides support as needed for board meetings and related events.
GREAT AMERICAN SUPPLEMENTAL BENEFITS GROUP, January 2011 – July 2012
National supplemental insurance company with many companies under it's umbrella including Loyal American Insurance Company, United Teacher Associates Company, Continental General Insurance Company and Great American Life Insurance Company.
www.loyalamerican.com
Graphic Design Specialist
Graphic Design Specialist for company of 400 employees, responsible for "Fortune 500" look of insurance company owned by American Financial Group. Design and write copy for brochures, ads, flyers, html emails. Create logos, maintain and create documents and graphics for all companies as well as inner office announcements, emails, contests and promotions.
Key Accomplishments:
Created branding for suite of new supplemental products for Loyal American. Including Brochures, Website, Identity Marks and iPad application.
Improved and sped up processes of document editing, maintenance and web readiness.
Created identity and documents for agent incentives program
Developed look and feel for agent-side website
Industries:
Insurance
B2B Insurance
INTERNATIONAL CONFERENCE MANAGEMENT, July 2007-July 2010
National marketing and expo corporation with numerous affiliate companies: Construction Expo, Construction Data Direct, Build Expo, Elite Dental Symposium, Alltek Construction, and Construction Cowboys.
www.constructionexpo.com, www.constructiondatadirect.com, www.buildexpousa.com
Graphic Designer & Web Administrator, 2007- 2010
As the sole designer in the company, the position requires self direction and fast, efficient design knowledge. Responsibilities ranged from the creation of all corporate and affiliate company marketing materials involved with branding, logo design, advertisements, website creation, and marketing materials. On client facing projects, responsibilities ranged from interacting and collecting assets from clients, creating advertisements for printed show guides, and designing and executing HTML email campaigns.
Able to effectively communicate and utilize strong communications skills in support of office staff in information technologies, email account management, and file organization and database backup.
Key Accomplishments:
Improved sales in 2008-2009 to over $1.5 million through increased and dynamic promotional marketing
Increased website traffic by 225% through SEO since 2007
Simplified the online event registration process to 2.5 minutes (previously 4.5 minutes).
Software Expertise: Photoshop, Dreamweaver, Illustrator, Indesign, Acrobat, and MS Office products
Website Tools: Joomla, HTML, PHP and Analytics Saved 18% in marketing and sales expenses by identifying efficiencies and eliminating non-performing programs
Implemented HTML email campaigns resulting in higher revenues and lower costs over mail campaigns
Industries:
Construction
B2B Trade Shows
Email Marketing
NHPO, June 2007 – July 2010
National Hispanic Professionals Organization
Freelance Graphic Designer
Creation of various marketing materials including brochures, signage, email marketing, & logo designs. Creation of visual branding for travel ventures and organizational newsletters.
Industries:
Travel
Non-Profit
KTBC, 2005-2007
Austin's local Fox Affiliate, leading newscast at 9pm.
Graphic Designer
As part of the station's design team, creation of on-air graphics for news and informational graphics. Long-term projects involve identity and branding of station graphics, business cards as well as creation of newspaper and magazine ads for the station. I created snipes, bumps, interstitials, open animations for various station promotional and sales graphics. Involved in sweeps-week graphic creation, working with various producers to inform and educate the public on current issues. Assisted Art Director with branding station identity graphics and streamlining graphic and organizational processes.
Key Accomplishments:
Increase in viewership over 3 consecutive sweeps periods
Improved design processes to increase communication & efficiency between producers and artists
Industry:
Broadcasting
KXAN/KNVA LIN Television
Local television affiliate for Austin's CW & NBC.
Graphic Designer ( 2003-2005)
Creation of day to day news graphics as well as Public Service Announcement animations. I used my graphic design skills to communicate current events and updates of news stories through graphics in the newscasts and to interest our viewers in their community and communicate events around the world. Other responsibilities are the creation of web graphics, logos, identities for video packages, on-air bugs, street, county, state and global maps, as well as animations for varying promotions within the television stations. Print activities include postcards, t-shirt, & mailers for both stations. Manipulation and correction of video and photo media included color adjustments, resolution manipulation and green screen usage. Created web graphics in cooperation with sales staff for various clients of the television station. Worked closely with Art Director and Senior Graphic Designer to accomplish a consistent use of branding and identification of KXAN & KNVA television stations.
Key Accomplishments:
Creation of set redesign in 2005
Implemented "Make a Difference" campaign
Industry:
Broadcasting
Stir Advertising
Ad Agency, Milwaukee WI. www.stirmarketing.com

Internship, & Part-Time Graphic Designer (2001 – 2002)
Assisted art director in activities including newspaper and magazine ad creation, photo retouching, web site development, identity systems, package and pamphlet design. Production of marketing mailers and identity system packets for clients. Concepting of adwork and photography choices with creative director and art director.
Industry:
Advertising
B2B
Financial
SKILLS
Adobe Creative Cloud
Adobe Illustrator
Adobe PhotoShop
Adobe Image Ready
Adobe Premiere
Adobe After Effects
Adobe Front Page
Adobe Indesign
Adobe PageMaker
Chyron Xclyps
HTML
Mac and PC Platforms
Macromedia Flash MX
Macromedia Dreamweaver
Microsoft Word
Microsoft Power Point
Microsoft Excel
Microsoft Publisher
Quark Express 4.2
EDUCATION
Bachelor of Fine Arts in Communication Design, 05/2002
Minor in Business § Milwaukee Institute of Art and Design, Milwaukee, WI
Associate, Customer Service, 06/2012
LOMA, Austin, TX
Creating Web Pages II, 09/2008
University of Texas Online, Austin, TX
Introduction to Flash, 10/2006
University of Texas Informal Classes, Austin, TX
>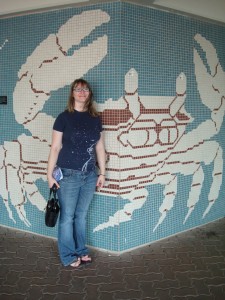 Born on the shores of Lake Michigan, on the precipice of Illinois and Wisconsin; I have a propensity for cheese and much disdain for cold weather. I attended Milwaukee Institute of Art and Design and received my B.F.A. in Communication Design. Fast forward my life to now, I design graphics in Austin, TX – all kinds. Over 10 years of graphic design experience in broadcast design, corporate identity, advertising, web design, HTML email campaigns and more. Here is my pdf resume.